Regular price
Sale price
99,00 DKK
Unit price
per
Sale
Sold out
VAKKA's black tea has grown in Yunnan province, which is located in southwest China. The landscape here has rolling peaks with an average height of more than 1000 meters. The country is densely wooded and the subtropical climate with an average temperature of 18-22 °C and annual rainfall of 1,200-1,700 millimeters makes the soil extremely fertile.
The tea plants grow and live their lives in full mist in the morning and evening on sunny days, and on the cloudy days they stand under the clouds and grow big and strong. The plants therefore have all the prerequisites to grow - and they do. The fertile soil results in tall tea plants with strong buds and leaves. Both leaves and buds are soft, tender and strong. The tea plants are like art - beautiful and complete.
You must choose our Organic Black Tea if you want a tea with an intense and earthy taste. A taste that lasts a long time, without becoming bitter. The aroma is soft and lasting. You can enjoy VAKKA's black tea all day long. Alternatively, our green tea and oolong tea are available, where the natural oxidation process is stopped a little earlier.
Oxidation: Fully oxidized
Process: After harvesting, the water content of the tea leaves is reduced. This is done by shaking and turning the leaves repeatedly. Then the rolling begins, where the cell walls of the leaves are broken and preparations are made for oxidation - also called fermentation. During oxidation, the tea leaves turn dark. A color change that occurs as the leaves receive oxygen. After fermentation, the leaves must be thoroughly dried, which greatly reduces the water content and ensures shelf life.
How to brew the tea
To achieve the most refined taste, we recommend that you use approx. a teaspoon of tea for every half liter of water. Start by softening the tea by pouring hot, non-boiling water over it. Let it soak until the leaves unfold. Then pour off the liquid. The tea leaves are now ready for brewing.
Pour over the tea leaves with boiled water that has a temperature of 95-100 degrees. Then let it steep for three minutes to get the completely unique aftertaste. The same tea leaves can be reused up to three times.
Storage Dry and dark
Net weight 100 g
Share Organic black tea
View full details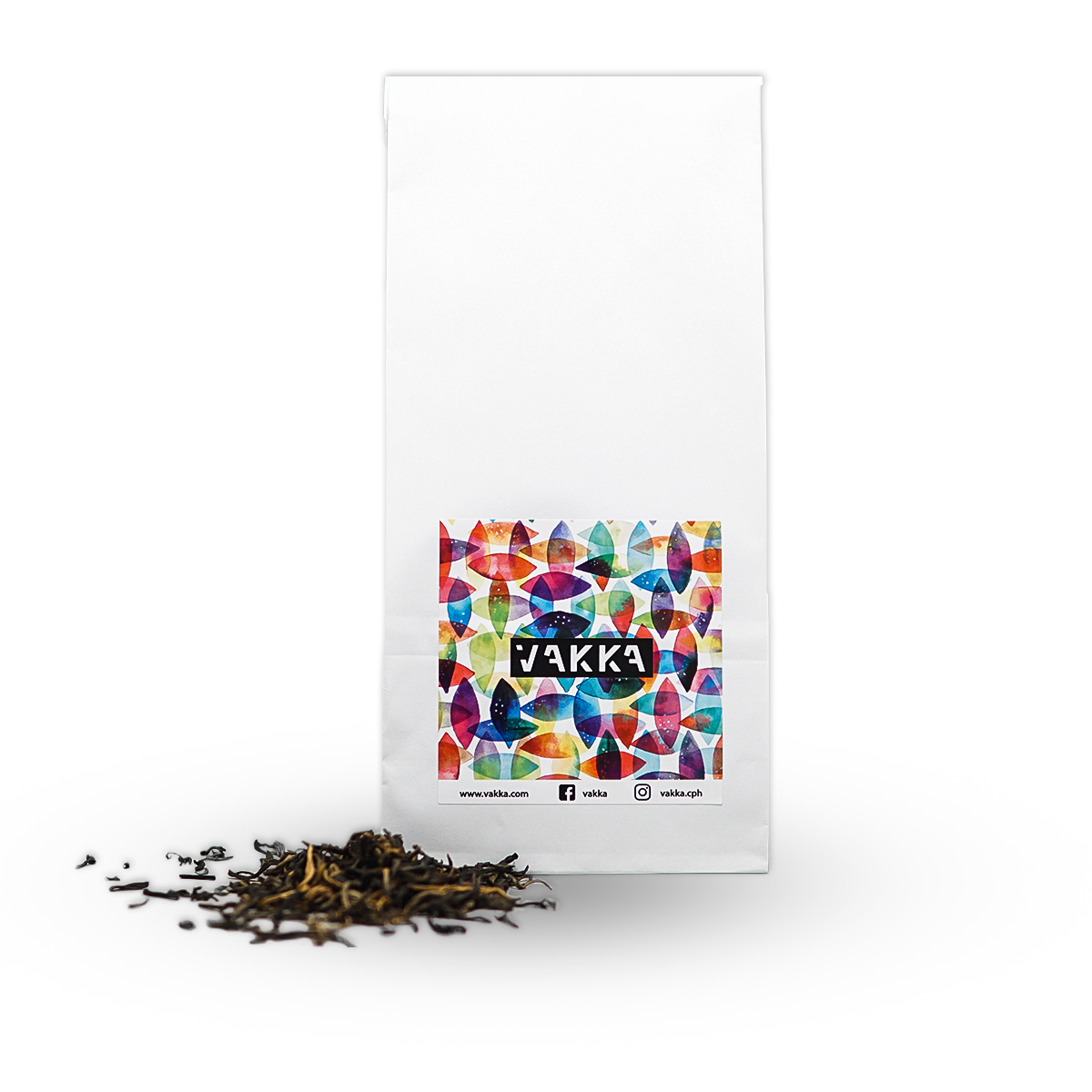 Which tea should I choose?
Organic green tea

VAKKA's organic Green tea has a fresh and elegant taste with notes of dried grass, a hint of sweetness, and a dry finish.

Organic oolong tea

Our organic Oolong tea has a warm, deep orange color and the taste is fresh, deep and soft with a delicate aroma with a hint of nuts. Oolong tea is many people's favorite evening tea.

Organic black tea

Intense and structured taste you will find in our organic black tea., A taste that lasts a long time without becoming bitter. The aroma is soft and lasting.